Support for Hybrid-Learning
What is Hybrid-Learning?
Hybrid-Learning is a more flexible and effective way of teaching and learning by combining face-to-face and online classes. There are two types of hybrid-learning methods: "blended learning," which combines face-to-face and online classes, and "high-flex learning," which allows students to take the same class in both face-to-face and online formats.(Source: "Hybrid Learning Guide" provided by Hokkaido University Center for Open Education.)
Support for Hybrid-Learning
CEED provides technical support for the implementation of hybrid-learning, in addition to the production of e-learning materials. As well as regular curriculum lectures by engineering faculty, we are also available to consult on events organized by engineering faculty. Basically, we support the design of classes and events without our staff attending everytime.
1. Technical Consulting for Hybrid-Learning
The high-flexing of lectures is not only for infection control purposes. Combining face-to-face classes with online learning has the potential to enhance learning effectiveness. Students can flexibly choose the method of attendance according to their own circumstances, such as study abroad, internships, and other schedules or physical condition. Depending on the objectives of the lecture, various technical designs of classes can be considered, combining face-to-face classes, live streaming, and on-demand distribution. We propose the best plan for you based on your requirements for the purpose of hybridization, lecture content, and equipment to be used.
2. Equipment Rentals for Hybrid-Learning
Equipments are available for rental to conduct a hybrid type of class.
We have created an equipment package that makes hybrid lectures easy and smooth. We continue to offer this service with improvements such as smaller size and longer continuous use time.
The following are examples of rental equipment. Links in Specifications / Usage may move to external sites.
Please swipe to see.
Equipment
Note
Specifications / Usage
Webcam
If a PC does not have a built-in camera, but you wish to stream your video, use an external Webcam.
3 units available
Logicool StreamCam Product Link
Headset Microphone
Headphones with microphone. Using a headset microphone is recommended to prevent echoes and to record clearer audio.
4 units available
Poly BLACKWIRE 5210 Product Link
Presentation Pointer
The pointer is shown directly on the display (screen) rather than by laser beam, allowing the user to show where pointed at on the screen sharing. A pointing stick with slide feed function is also available.
AIRBEAM(KOKUYO)Product Link
PRESENTER PR1-HY(Canon)Product Link
SPOTLIGHT PRESENTATION REMOTE(Logicool)Product Link
Presentation Stick e-bow(PLUS)Product Link
Speakerphone
If two or more participants will be in-person, a speakerphone is highly recommended to prevent echoes.
YAMAHA YVC-330 Product Link
Wireless Microphone System
Dual-channel wireless microphone system that can receive from two transmitters to one receiver. While recording the speaker's voice clearly, the wireless system does not limit their movement. The transmitters also allow for simultaneous sound recording.
2 units available
RODE Wireless Go II Product Link
Quick Guide PDF (May 2023 Ver.)
AI-controlled Webcam (without OS)
An AI-controlled Webcam with integrated speaker and microphone suitable for small discussions (2 to 8 people) such as laboratory seminars. It automatically focuses on the speakers.
Meeting OWL Pro(Sourcenext Co.) Product Link
An AI-controlled Webcam with integrated speaker and microphone suitable for small discussions to meetings/seminars with a larger number of people. It automatically focuses on the participants. The area of sound collection can be extended by connecting an external microphone.
KAIGIO CAM360(Sourcenext Co.) Product Link
AI-controlled Webcam (with OS)
An AI-controlled Webcam with integrated speaker and microphone suitable for small discussions (2 to 8 people) such as laboratory seminars. Built-in Android OS allows users to connect to a web conferencing system without a PC.
Kandao Meeting Pro(KanDao Technology Co.) Product Link
AI Auto Tracking PTZ Camera
A Webcam suitable for lectures with participants moving around and events involving various activities. The camera tracks people through automatic AI recognition, and if set the shooting area (zone), the camera automatically switches the angle of view for each zone as the people move around. It can be operated by remote controller.
AVer PTC310U Product Link
Quick Guide PDF (May 2023 Ver.)
AVer DL10 Product Link
Quick Guide PDF (Oct. 2023 Ver.)
Equipment Package for Hybrid-Learning
It consists of a camera that can be freely positioned without limitations of location, a small wireless microphone, and a switcher that provides minimal functionality but also has expandability. Just by turning on a few items and connecting a single USB cable, lecture video can be streamed to a web conference system without any special preparation.
2 units available
Quick Guide PDF (March 2022 Ver.)
Manual PDF (April 2022 Ver.)
Instructions Video (March 2022 Ver.)
Image of Equipment Package for Hybrid-Learning in Use
For an outline of the equipment and actual usage situations, refer to the "Instructions Video" in the list of rental equipment above. In some cases, the package can be customized (e.g., fixing the camera on a tripod, inputting audio from a microphone provided in the lecture room, etc.) to suit the lecture format and the lecture room to be used.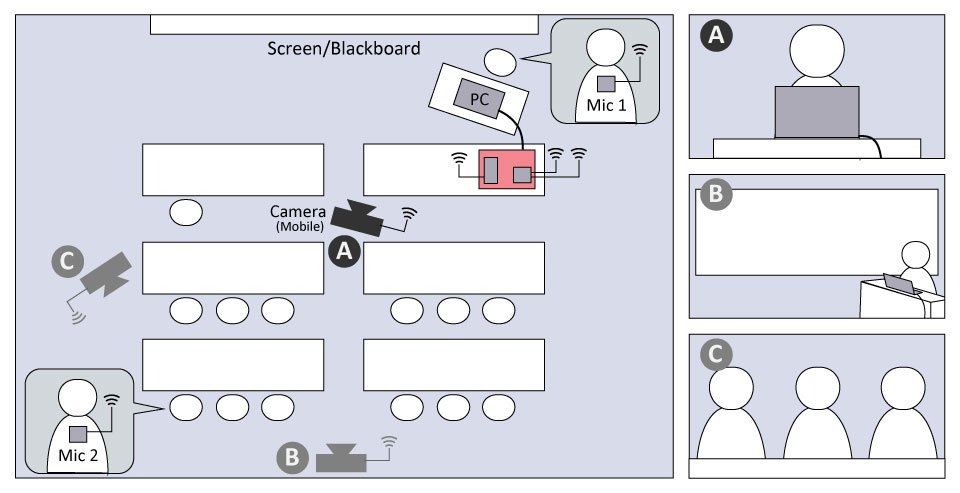 3. Support for use of B31 Classroom (Hybrid Classroom)
A system has been installed in the B31 classroom that makes it easy to conduct hybrid classes by only bringing in your own computer. It enables to easily input ceiling-mounted camera images into a web conferencing system. The sound from the lecturer can be transmitted to the online participants by speaking into the provided microphone, and the sound from the online participants can be played through the classroom speakers. For reservations, please contact Undergraduate School Section of Engineering. For details on classroom facilities and how to use them, please contact CEED.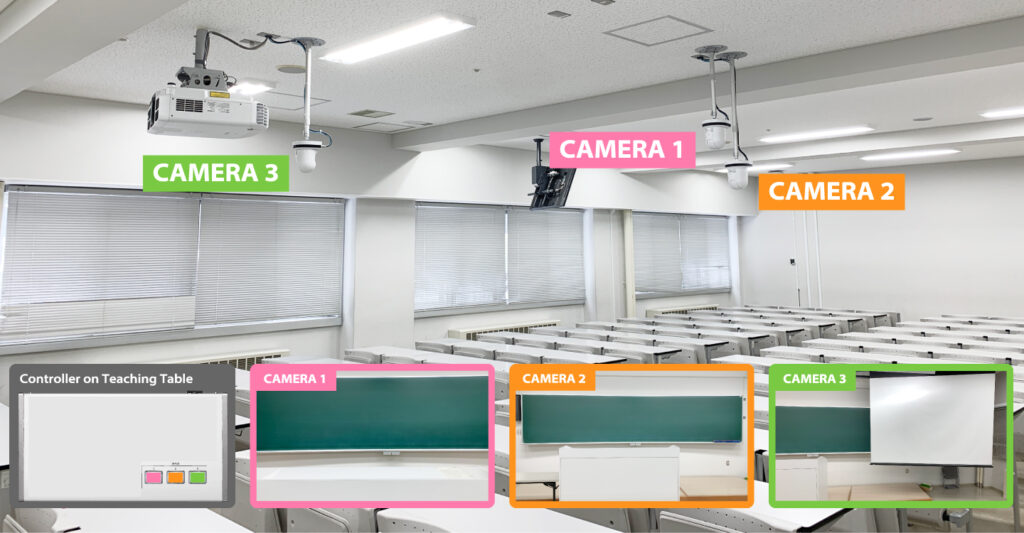 Application and Inquiry for Hybrid-Learning Support
Application is available via Google Form at the following link.
Application Form
This form will only be displayed if you have logged in with the Google account associated with ELMS. Be sure to log in to ELMS first and refer to the link above. If you are logged in with another Google account, "Not Found" will be displayed.
---
Contact for Inquiries
CEED e-Learning Initiatives
Faculty of Engineering, Hokkaido University
Tel.:011-706-7168 (ex. 7168)
E-mail:ceed-eL◆eng.hokudai.ac.jp
*Replace ◆ with an at sign.